The first settlers came to Woodbury in 1844. The land was mostly woods but was converted to farmland. The township government was organized in 1858. Most of the area's early settlers migrated from the eastern states and from Germany, Ireland, Sweden, Switzerland, Scotland and Denmark. Over the years the people of Woodbury have contributed in many ways to the rich heritage that the city enjoys today.
John and Alexander McHattie
John and Alexander McHattie were born in Scotland, moved to Minnesota in 1840 and made their way to Woodbury to stake 3 sections in Washington County east of County Rd 19, north of Dale Road and west of Radio Drive. By 1880, the population of Woodbury was 1,134. Many decades later, the McHattie's home became the very popular McHattie's Tea House.
James Middleton Sr. emigrated from Ireland in 1839 and worked his way from New Orleans up the Mississippi to the St Croix River to Stillwater and staked a section of area known as Woodbury. The first one-room schoolhouse in Woodbury was built on land donated by the Middleton's.
James, Eliza, Margaret and Jane Middleton
Jacob and Lizzie Stutzman
Jacob and Lizzie Stutzman from Billings, North Dakota bought the farm from Henry Raths and his wife Rebecca in 1903. Herbert Stutzman (son of Jacob), and wife, Laura Alvine Schilling married on November 24, 1910. In 1919, they became owners of the Stutzman farm and worked it with their two sons Roy and Warren.
Jacob and Lizzie Stutzman
John Henry Schilling arrived on Bailey Road in 1856. They planted the first commercial orchard in 1905 on Schilling land, with about 300 trees. They sold apples, potatoes, and other produce at the St. Paul City Market. The Schilling School District 28 built in 1860 was one of the first in the county. Stayed open until 1940. Schilling farm was the last working dairy farm in Woodbury in 1995.
Claus and Elsabe Bielenberg
Claus and Elsabe Bielenberg came from Germany in 1876 and bought 80 acres at Bailey Road and what is now Radio Drive. Claus, his son Herman, and his son Orville farmed that land over the next 100 years. Orville's life spanned Woodbury's transition from a countryside of farms to a growing city. His son remembers Town Board meetings in their living room, with his mother, Bernice, serving coffee and cookies. In 1967, Orville Bielenberg became Woodbury's first mayor when Woodbury incorporated as a city. At that time the population was about 6,000 people.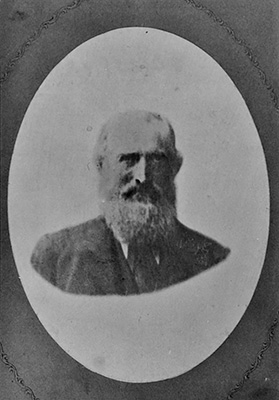 The Charles Spangenberg farmstead was one of the few nineteenth century farmsteads remaining in Washington County and it features a three-story limestone residence, a large barn of board-and-batten construction and granary. Potatoes and grain were the primary products of the farm, and later dairy products. It is Woodbury's only farmstead placed on the National Register of Historical Places!
Frederick and Sophia Raths
Frederick and Sophia Raths immigrated to the US in 1853. The family came to Woodbury in 1864. They purchased their farm on 160 acres in 1866, for $1,280 adjacent to what is now the intersection of Lake Road and Radio Drive. In 1870 they built an attachment to their log cabin home; that building survived and is now preserved as the Woodbury Heritage House. In 1895 they sold the farm to their son Henry, and his wife Rebecca, nee Oehlke. Another son, George, farmed on Woodbury Drive by the present day Eagle Valley Golf Course. His son Walter's daughter Bernice married Orville Bielenberg in 1944.
Frederick and Sophia Raths
Dairying has been a major part of the economy of Woodbury through its history. Early 1990s on the first milk route, Ed. H. Triebold would start at his farm and pick up milk from others in route to St. Paul. After they formed the Twin City Milk Producers Association, all the milk was transported to St. Paul. In the early years, several farmers would gather all the milk in metal cans and take turns hauling it to St. Paul, first by horse and wagon or sled, then later by truck. Woodbury played a key role feeding the east Metro areas of the Twin Cities and beyond.
Ed H. Triebold's milk wagon
Receipt from Casey Milk Company
People Made History. So Does a Church!
Early life centered around farm and church. Woodbury was a wilderness when the United Methodist Church of Woodbury was first founded in 1853 and is considered one of the oldest Methodist organizations in the Midwest. The church served the community of German immigrants which formed the nucleus of the congregation that in after years was to become one of the largest rural congregations of German Methodism. The church also served as a post office.
Every Saturday the preacher took his sleigh or buggy and horse to St. Paul to get the mail.
Salem Lutheran Church was founded in 1863. Because of the congregation's German background, the members learned their Catechism until approximately 1920 in German and German services were held once a month until the early 1940's. Over the years the congregation has built 2 churches, 3 parsonages and a preschool located on 7825 Bailey Rd. Salem Evangelical Lutheran Church is located on Bailey Road & was founded in 1863 by German settlers. Services were first held in various homes by Pastor Hoffman of Lake Elmo. The first Salem church as built in 1864, and was located just in front of the present building. The present church was erected before 1900. In the early days the parochial school was held in the front hall of the church until a school was built. Later the schoolhouse was used for Saturday School & Catechism classes. The school had been moved from the site & was used as a building on a local farm nearby.
Salem celebrated its Centennial Year on 14th July, 1963.
Dr. A. F. Steen first came to the area in 1873 directly after Rush Medical School. He did not have enough money to buy a buggy and harness, so he bought a saddle horse to make his rounds. One of his prized possesses was the saddle bags with special pockets for medicine bottles. During his earlier days, Dr. Steen sometimes took a foot path or cow's path to someone's home. Woodbury has become a regional health care center since Woodwinds opened in 2000 to Gillette Children's Specialty Healthcare to Tria and Twin Cities Orthopedic clinics to The Urgency Room- all focused on the health of our population.
Charles Frederick William Oehlke immigrated from Prussia to Woodbury in 1859 and bought 80 acres at Dale & Tower. They were among the early settlers of what eventually became the City of Woodbury. Inez's husband's great grandfather and others in his family helped in the early development of Woodbury as it grew and evolved with the addition of roads, schools, businesses, churches, and other ingredients of a strong and vital community.
Inez's father was proud of Woodbury, instilling in Inez a great passion for preserving the history of Woodbury and honoring the Native Americans and settlers who gave birth to our community. The values and hard work demonstrated in those early years continue to be represented in today's Woodbury.
Inez was the inspiration for preserving the 100-year-old Miller barn in the Valley Creek Park. She established a substantial fund with the Woodbury Community Foundation for the Woodbury Heritage Society use to preserves our community's heritage for future generations.
Inez leaves us with a verse from a Robert Browning poem, "Come, come, come, grow old with me, the best is yet to be."
Schooling was very important to the pioneers. In 1881, the county established any township having five residents was declared a school district. The county commissioners were obliged to receive reports from the clerk of each school. With population growing, new schools were required to accommodate pupils. As population shifted, some schools were consolidated, and others were discontinued. It was customary for a teacher to be asked to the family's home of the children sometime during the year. This was a very exciting time for teacher, parents, and the pupils. Some of the early schools were Middleton School, Fish Lake School, Hudson Rd School, and Sunny Hill School. Woodbury's first school District 25 – Middleton school was located at 11256 Baily Road. The district was organized April 5, 1852 and included the east halo of Woodbury and the west tier of sections of Afton.